New-Alexandra Gifts Guide to - Keep Calm & Carry On

The History of Keep Calm and Carry On
The 'Ministry of Information' was formed by the British Government as the department responsible for publicity and propaganda during the Second World War.

In late 1939 after the outbreak of war, the M.O.I. was appointed by the Government to design a set of three 'Home Publicity' posters that would be displayed across the British Isles. The poster was intended to raise the morale of the British public, threatened with widely predicted mass air attacks on major cities. Although 2.45 million copies were printed, and although the 'Blitzkrieg' did in fact take place, the poster was hardly ever publicly displayed and was little known until a copy was rediscovered in the year 2000 at a bookshop in Alnwick, Northumberland. It has since been re-issued by a number of private companies, and has been used as the decorative theme for a wide range of products and giftware. With their bold coloured backgrounds, the three posters were required to be similar in style and feature the symbolic crown of King George VI, along with a simple yet effective font.

The first two national posters issued , 'Your Courage, Your Cheerfulness, Your Resolution will Bring Us Victory' and 'Freedom is in Peril' were produced by His Majesty's Stationery Office (HMSO).

These two were posted on public transport, in shop windows, upon notice boards and hoardings across Great Britian.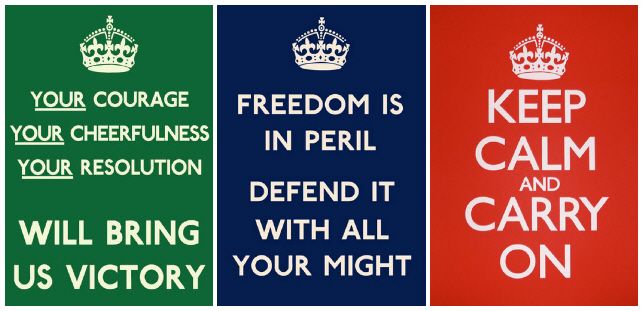 The third and final poster of the set was again very straightforward and to the point - it simply read 'Keep Calm and Carry On'. The plan in place for this poster was to issue it only upon the invasion of Britain by Germany. As this never happened, the poster was never officially seen by the public.
For more information about the 'Keep Calm & Carry On' phrase, please visit: