New-Alexandra Gifts - Awards

Championing the Best - The Customer at the Heart Awards
"Alexandra Gifts of Ashby are Honoured & Delighted to be proud winners of a 'Customer at the Heart Award'..."
There are independent businesses the length and breadth of Britain who put their customers first. They battle against the out of town shopping centres, the major multinational brands and the challenges facing the high street by making themselves stand out. Their stores are a destination, a must-visit because their level of service elevates them from the competition. Their passion for ensuring they make their customers lives a bit easier, that they give them cheer and add some colour sees them succeed where many others fail. They deserve our support as well as our custom.

In 2011, the 'Customer at the Heart Awards' were established to celebrate this commitment to excellence in service.

Below is an Extract from: www.whoiskatehardcastle.co.uk/2013/08/21/the-only-way-id-be-skint-in-scunthorpe-is-enjoying-the-retail-too-much/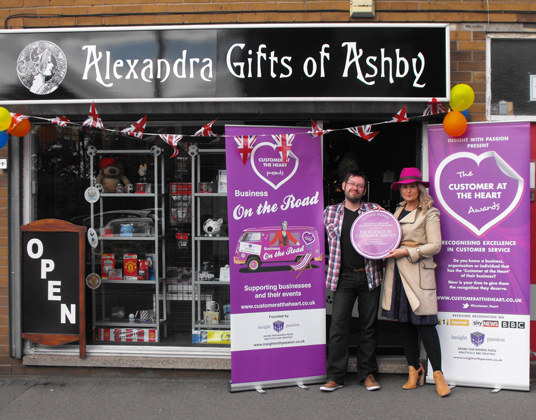 Accepting our 'Customer at the Heart Award' from TV retail expert and 'The Queen of Customer Service' Kate Hardcastle in August 2013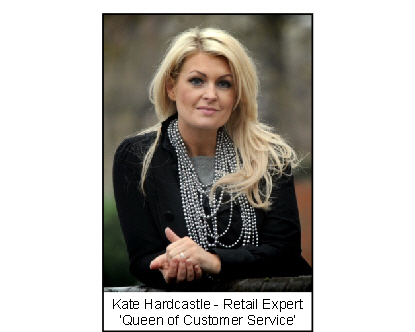 'The Only Way I'd be skint in Scunthorpe is enjoying the retail too much
Following the recent harsh portrayal of Scunthorpe through 'Channel 4's Skint Television Programme' Kate Hardcastle headed to Scunthorpe for the day in order to see the real Scunthorpe, those who are working hard on the high street to keep their businesses, and the town alive. How this happened? Anyone who has ever been to one of my seminars will have heard me reference wise tips in business from my much beloved Nan. I spend my life reassuring people about business. The answers don't have to be complicated. The jargon does not need to be confusing but common sense and passion must prevail. After working with forward thinking travel group (Advantage) on a series of seminars, I made acquaintances with the managing director of Kuoni Travel Group, Derek Jones, who via social media laid down the gauntlet asking me if I could make Scunthorpe appealing. It would have been easy to ignore but always one to accept a challenge I was intrigued.


Why was Scunthorpe the punch line in a destination joke? What was it doing so wrong? or was it just Nanâ€ââ€Å¾¢s old adage; had the book been firmly judged by the cover? I had visited Scunthorpe as a child and didnâ€ââ€Å¾¢t have lasting memories of the town either way, but the comment on social media, and throughout my network alike, led to a clear understanding that Scunthorpe not only has bad press but can seemingly put off potential visitors from afar. Could the truth really be that bad?So squeezed in between seminars in Las Vegas and client work in Dubai I headed with the Insight with Passion team to a number of businesses, some recommended through social media and some just starting out. On approach Scunthorpe has nothing to be ashamed of and has plenty of greenery. I can recall towns and cities (worldwide) with more unpleasant journeys in.

The first port of call for the day was Ashby, where I met an individual that could put a lot of six figure earning retail gurus to shame, for his lasting dedication and drive to open up his own retail store in a small high street that had been bustling throughout his childhood but declined in recent years.
Andy doesn't have an innovative or ground breaking concept; he just wants to make sure his business thrives with great customer service for young and old, providing great gifts. Nothing so Earth Shattering there, so why the high praise? I was there to open the 2nd store, in a business that only started last year.
Andy ran his store during the day and after closing worked in a bar every night during the initial months his business was getting up and running. Let me assure everyone reading this; there are much easier ways to make money than retail! Everyone working on the High Street today was talking about the positive future of the High Street. Nearly 70 million people live on this postage stamp of an island and this is something I recommend a lot more people start believing in and working towards making this happen

(The Article Continues on Kate Hardcastle's Blog - Read More Here)